Sign up to receive weekly updates from ECECD via email! 
The Administration for Children and Families (ACF) is inviting families to share their experiences with early childhood programs and services.
AFC is looking for family members and primary caregivers (parents, grandparents, guardians, etc.) of children aged birth through five years, whose children are currently receiving early care and education services through licensed child care programs, family child care, early education programs or preschools, home visiting programs, Head Start or Early Head Start, or participation in other types of service support. Participating family members will receive a $100 honorarium for each discussion they attend. These Working Partner Groups will be composed of 20 selected parents who will participate in 3-4 virtual meetings in summer and fall 2023. Each discussion will be 60-75 minutes. 
Interested? Apply Here: surveymonkey.com/r/WZ86W9T.   
En Español: La Administración para Niños y Familias (ACF, por sus siglas en inglés) invita a las familias a compartir sus experiencias con los programas y servicios para la primera infancia.
Estamos buscando familiares y cuidadores principales (padres, abuelos, tutores, etc.) de niños desde el nacimiento hasta los cinco años, cuyos hijos actualmente reciban servicios de educación y cuidado temprano a través de programas de cuidado infantil autorizados, cuidado infantil familiar, programas de educación temprana o preescolares, programas de visitas domiciliarias, Head Start o Early Head Start, o participen en otros tipos de servicios de apoyo. Los miembros de la familia que participen recibirán un honorario de $100 por cada debate al que asistan. Este Grupo de Socios de Trabajo estará compuesto por 20 padres seleccionados que participarán en 3 o 4 reuniones virtuales en el verano y el otoño de 2023. Cada debate será de 60 a 75 minutos. 

¿Está interesado? Presentar solicitud aquí surveymonkey.com/r/3P5HWCX
FOCUS Planning Time Grant Update
Attention FOCUS Providers,   
ECECD is excited to inform you that the new FY24 FOCUS Planning Time Grant Cycle is in the works. ECECD will be issuing a one-time payment for those who qualify between September 2023 and October 2023. We acknowledge many of your concerns regarding the award allocations from last year and are creating a scale to revise allocations while working to continue to provide access to as many qualifying agencies as funding permits.   
At this time, nothing is needed from your agency. Once the application window opens and more details are finalized, we will follow up with notifications.   
En Español: Actualización sobre la Subvención de tiempo de planificación FOCUS
Atención proveedores de FOCUS:     
Nos complace informarles que ya está en marcha el nuevo ciclo de la Subvención de tiempo de planificación FOCUS para el ejercicio fiscal 2024. Entre septiembre de 2023 y octubre de 2023, el ECECD hará un pago único a quienes cumplan los requisitos. Reconocemos muchas de sus inquietudes en relación con las asignaciones del año pasado y estamos creando una escala para revisar las asignaciones al tiempo que trabajamos para seguir brindando acceso a tantas agencias que reúnan los requisitos como lo permitan los fondos.    
En este momento, no se necesita nada de su agencia. Una vez que se abra el periodo para la presentación de solicitudes y se dé forma definitiva a más detalles, haremos un seguimiento mediante notificaciones.    
Ongoing ECECD Supports: Waterford UPSTART, Elevate New Mexico and EPICS Provider Dashboard 
 Help with Child Care Finder Account:

ECECD launched New Mexico's Child Care Finder, powered by Wonderschool! You can sign up here today! The Wonderschool team is excited to support you through creating your Child Care Finder account and receive support to get your listing to the next level. Wonderschool's all-in-one tool is also available to you at no cost through the Elevate NM Child Care program – with actual Set-Up Coaches available along the way to offer training, support, and resources!

 Waterford UPSTART:

is an in-home kindergarten-readiness program to help children develop the foundational academic and cognitive skills needed for school success. To learn more about Waterford UPSTART, visit 

nmececd.org/waterford.org

.  

 
Elevate New Mexico: offers management tools that are available to child care businesses in New Mexico at no cost and includes access to business coaching, child care management software, and community coaching. Elevate New Mexico is also available in Spanish! Visit 

Elevate New Mexico Child Care,

 or text "ELEVATE" to 505-391-3176 to learn more! 
Owners, directors, and administrators of licensed and registered child care programs are encouraged to utilize the EPICS Provider Dashboard to improve their communications with ECECD. For EPICS Provider Dashboard information and support, visit: 

EPICS Child Care Provider Dashboard Information and Support.
En Español: Apoyos vigentes del ECECD: Waterford UPSTART, Elevate New Mexico y el tablero de proveedores de EPICS
¡El ECECD ha lanzado el buscador de servicios de cuidado infantil de Nuevo México "Child Care Finder", desarrollado por Wonderschool! ¡Registrarse aquí hoy! El equipo de Wonderschool está encantado de ayudarle a crear su cuenta de Child Care Finder y apoyarlo para llevar su inclusión en la lista al siguiente nivel. La herramienta "todo-en-uno" de Wonderschool también está disponible sin costo a través del Programa Elevate NM Child Care, con personal listo para instruirlo durante el proceso de configuración de la cuenta y ofrecerle capacitación, apoyo y recursos.
Waterford UPSTART es un programa domiciliario de preparación para el jardín de infantes que ayuda a los niños a desarrollar las habilidades académicas y cognitivas básicas necesarias para el éxito escolar. Para más información sobre Waterford UPSTART, visite org/waterford.org.
Elevate New Mexico ofrece herramientas administrativas, sin costo alguno, para las empresas de cuidado infantil en Nuevo México e incluye el acceso a asesoría empresarial, al software de administración para el cuidado infantil y asesoría para la comunidad. ¡Elevate New Mexico también está disponible en español! Para obtener más información, visite Elevate New Mexico Child Care, o envíe el mensaje de texto "ELEVATE" al 505-391-3176.
Se recomienda a propietarios, directores y administradores de programas de cuidado infantil autorizados y registrados, utilizar el tablero de proveedores de EPICS para mejorar sus comunicaciones con el ECECD. Para obtener información y apoyo sobre el tablero de proveedores de EPICS, visite: EPICS Child Care Provider Dashboard Information and Support | Early Childhood Education & Care Department (nmececd.org).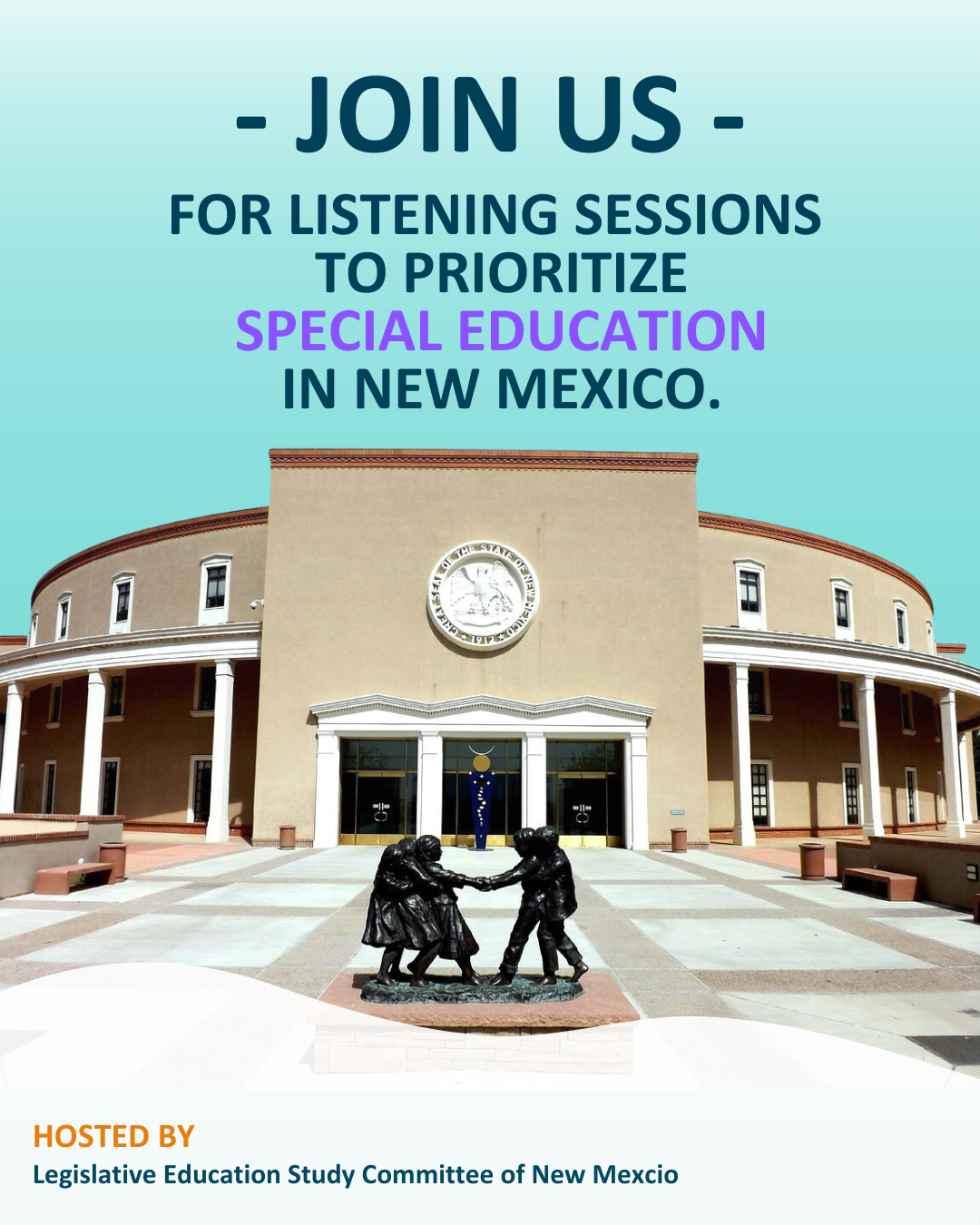 Special Education Stakeholder Listening Sessions
Special education students in New Mexico are facing challenges with their educational outcomes, resulting in achievement gaps between different subgroups. Families and advocates have expressed concerns about the available services for students with disabilities. To address these issues, the Legislative Education Study Committee (LESC) has taken the initiative to bring together stakeholders involved in special education. This effort aims to create a platform for meaningful discussions, learning opportunities, collaboration, and soliciting input. 
To achieve these goals, the LESC is organizing listening sessions and forming a special education stakeholder working group. The listening sessions will allow stakeholders to freely express their opinions, share ideas, and recount personal experiences. The special education working group will also focus on providing specific feedback on policy proposals presented by the LESC.
Learn more about these sessions here.
En Español: Sesiones de discusión con las partes interesadas en la educación especial
Los estudiantes de educación especial de Nuevo México enfrentan desafíos con sus resultados académicos, lo que da lugar a diferencias en el desempeño académico entre los diferentes subgrupos. Las familias y los defensores han expresado su preocupación por los servicios disponibles para los estudiantes con discapacidad. Para abordar estas cuestiones, el Comité de Estudios Legislativos sobre Educación (LESC, por sus siglas en inglés: Legislative Education Study Committee) ha tomado la iniciativa de reunir a las partes interesadas en la educación especial. Este esfuerzo tiene por objetivo crear una plataforma para tener debates significativos, oportunidades de aprendizaje, colaborar y solicitar comentarios y opiniones.  
Para lograr estos objetivos, el LESC está organizando sesiones de discusión y formando un grupo de trabajo de partes interesadas en la educación especial. Las sesiones de discusión permitirán a las partes interesadas expresar libremente sus opiniones, compartir ideas y contar experiencias personales. Por otra parte, el grupo de trabajo sobre educación especial se centrará en proporcionar información específica sobre las propuestas de política presentadas por el LESC.  
En este enlace hay más información sobre estas sesiones. LESC SPED Stakeholder Public Engagement.pdf (nmlegis.gov)
Join Quorum, a free online training program for early childhood professionals in New Mexico. Access over 200 hours of engaging professional development courses in English and Spanish. Sign up for your free Quorum account at: http://ow.ly/FGjN50FPTHT. 
Trauma Informed Practices courses: 
Trauma Informed Practices (3 hours)

 

Understanding Child Abuse and Prevention (3 hours)

 

A Beginners Guide to Resilience (coming soon)

 

Self-Care for Educators (4 hours)

 

To Expel or Not to Expel (4 hours)

 

Family Engagement: The Road to Better Outcomes for Children (4 hours)

 

Challenging Behavior: Reveal the Meaning (3 hours)

 

Responsive Caregiving (2 hours)

 
En Español: Desarrollo profesional gratuito para educadores infantiles
Quorum es el programa gratuito de capacitación en línea disponible para todos los profesionales de la educación para la primera infancia en todo Nuevo México. Quorum incluye más de 200 horas de desarrollo profesional atractivo en línea, tanto en inglés como en español. Obtenga una cuenta gratuita para Quorum: http://ow.ly/FGjN50FPTHT. 
¿Le interesan las prácticas informadas de trauma? Los siguientes cursos de Quorum abordan el tema de los cuidados sensibles al trauma:  
Prácticas informadas de trauma

(curso de 3 horas)

 

 

Comprender el maltrato infantil y su prevención

(curso de 3 horas)

 

 

Guía de resiliencia para principiantes

(próximamente)

 

 

Autocuidado para educadores

(curso de 4 horas)

 

 

Expulsar o no expulsar

(curso de 4 horas)

 

 

Participación de la familia: El camino hacia mejores resultados para los niños

(curso de 4 horas)

 

 

Comportamiento desafiante: Revelar el significado

(curso de 3 horas)

 

 

Cuidado responsable

(curso de 2 horas)

 

 
Health and Safety Requirements for New Mexico Child Care Centers, Licensed and Registered Homes, and Early Childhood Professionals
With the ending of the Emergency COVID-19 Public Health Order on March 31, the previous COVID Toolkit has been updated to a Health and Safety Toolkit. The new toolkit is available on the website: Health and Safety Information.
This Health and Safety toolkit will continue to be built out to add other health guidance as needed.
En Español: Requisitos de salud y seguridad para los centros de cuidado infantil, hogares registrados y autorizados, y para los profesionales de la primera infancia de Nuevo México
Con la finalización de la Orden de Emergencia de Salud Pública por COVID-19 el 31 de marzo, la anterior caja de herramientas para el COVID ha sido actualizada a la caja de herramientas de salud y seguridad, que está disponible en el sitio web Health and Safety Information | Early Childhood Education & Care Department (nmececd.org) stas herramientas de salud y seguridad se seguirán expandiendo para añadir otras directrices de salud, según sea necesario.
Rapid Response Process
Child care programs with a positive COVID case or close contact are required to file a report to the New Mexico Early Childhood Education & Care Department Rapid Response Intake Portal system.  
If you need assistance with identifying close contacts and making an online report, you can call the ECECD Rapid Response Hotline (1-833-866-3272) and provide your email address, your EPICS or license ID if available, your phone number, and whether it is a positive case or close contact. Calls will be returned in the order received between 8 a.m. to 5 p.m. Monday through Friday.  
Early Intervention providers will report positive COVID-19 cases via the Family Support and Early Intervention Division COVID-19 portal found at ececd.vaccinenm.org/fsei-login.html. Programs can also request a referral to the ECECD Families FIRST team, which offers resources to help with insurance, food, and other assistance. ECECD Families FIRST nurses can provide education, resources, and advice on health, nutrition, and nurturing.   
En Español: Proceso de respuesta rápida 
Proceso de respuesta rápida  
Los programas de cuidado infantil con un caso positivo (o contacto cercano) de COVID deben presentar un informe al Departamento de Educación y Cuidado en la Primera Infancia (ECECD) de Nuevo México por medio del Rapid Response Rapid Response Intake Portal system.   
Si necesita ayuda para identificar contactos cercanos y preparar un informe en línea, puede llamar a la línea directa de respuesta rápida del ECECD (1-833-866-3272) y proporcionar su dirección de correo electrónico, su ID de EPICS o de licencia (si está disponible), su número de teléfono y una mención de que es un caso positivo o un contacto cercano. Las llamadas se contestarán en el orden en que se hayan recibido, en el horario de 8 a. m. a 5 p. m., de lunes a viernes.   
Los proveedores de intervención temprana informarán de los casos positivos de COVID-19 a través del portal COVID-19 de la Family Support and Early Intervention Division (División de Apoyo a la Familia e Intervención Temprana) en ECECD – Provider Portal (vaccinenm.org) Como parte de este esfuerzo, los programas también pueden solicitar una referencia al Programa Families FIRST del ECECD, el cual puede ofrecer recursos de ayuda con seguros médicos, alimentos, y otros tipos de asistencia. Las enfermeras de Families FIRST pueden brindarle información, recursos y consejos sobre salud, nutrición y cuidados.