Receive Text Alerts
from ECECD
Text JOIN to 833-683-0607 to receive ECECD special announcements directly  to your mobile phone! Your number will not be shared with third parties.
Sign up to receive weekly updates from ECECD via email! 
Health and Safety Requirements for New Mexico Child Care Facilities and Early Childhood Professionals 
Last year, Governor Michelle Lujan Grisham declared a public health emergency to maximize the resources available to fight the spread of COVID-19 and minimize public health risks for New Mexicans. The fight against COVID-19 is ongoing, fluid, and requires our collective diligence and attention. Effective August 23, ECECD updated its mask requirements for staff, children, parents, and essential visitors; effective August 16, ECECD updated requirements regarding testing for non-vaccinated staff and practicum students.
The complete and most up to date ECECD Health and Safety Requirements can be found at www.nmececd.org/updatedrequirements. View the updated Health and Safety Requirements flyer: English | Spanish.
December 8, 2021 COVID-19 Press Conference  
The COVID-19 press update presented by New Mexico Department of Health (NMDOH) Acting Secretary Dr. David R. Scrase, NMDOH Deputy Secretary Dr. Laura Parajón, and State Epidemiologist Dr. Christine Ross included updates pertaining to vaccination rates; booster dose administration progress; vaccines for 5- to 11-year-olds; the Delta and Omicron variants; cases, hospitalizations, and deaths; treatments, and oral therapeutics. See the entire slide deck here.  
Requisitos actualizados sobre mascarillas y pruebas: Requisitos de salud y seguridad para los centros de cuidado infantil y los profesionales de la primera infancia de Nuevo México
El año pasado, la gobernadora Michelle Lujan Grisham declaró una emergencia de salud pública. Su propósito era maximizar los recursos disponibles en la lucha contra la propagación del COVID-19 y minimizar los riesgos de salud pública para los habitantes de Nuevo México. La lucha contra el COVID-19 sigue en marcha, es fluida y requiere nuestra diligencia y atención colectiva. A partir del 23 de agosto, el Departamento de Educación y Cuidado en la Primera Infancia (ECECD) actualizó sus requisitos de mascarillas para el personal, los niños, sus padres y los visitantes esenciales. Además, a partir del 16 de agosto el ECECD también actualizó los requisitos con respecto a las pruebas para los pasantes y el personal no vacunados. 
Los requisitos de salud y seguridad del ECECD completos y más actualizados pueden consultarse en www.nmececd.org/updatedrequirements. Vea el folleto actualizado de "Requisitos de salud y seguridad": inglés | español.
¿Tiene preguntas sobre los requisitos de salud y seguridad del ECECD? El ECECD recopiló preguntas frecuentes que se hacen a los centros de cuidado infantil y profesionales de la primera infancia. Lea las preguntas frecuentes sobre los requisitos de salud y seguridad: inglés | español.
Conferencia de prensa sobre el COVID-19 del 8 de diciembre de 2021   
El comunicado de prensa con información actualizada sobre el COVID-19 presentado por el secretario interino del Departamento de Salud (NMDOH), Dr.  David R. Scrase, la Secretaria Adjunta de dicho departamento, Dra. Laura Parajón, y la Epidemióloga del Estado, Dra. Christine Ross, incluyó datos recientes relacionados con las tasas de vacunación, el progreso alcanzado en la administración de dosis de refuerzo, las vacunas para niños de 5 a 11 años, las variantes delta y ómicron, los casos, hospitalizaciones y muertes, los tratamientos y la terapéutica oral.  Vea todas las diapositivas aquí.  
Rapid Response Process
Child care programs with a positive COVID case (or close contact) should call the Centralized Intake line at 1-833-866-3272. ECECD Child Care Licensing and UNM Early Childhood Services Center have teamed up to streamline reporting and provide additional support. The Centralized Intake staff will provide child care programs needed support and guidance to ensure the safety of children and that classrooms can re-open with as little disruption as possible. The ECECD regulatory team will continue to take calls, however child care programs are encouraged to call the Rapid Response Central Intake line to report positive COVID cases (or close contact).     

Programs can also request a referral to the ECECD Families FIRST team, which offers resources to help with insurance, food, and other assistance. ECECD Families FIRST nurses can provide education, resources, and advice on health, nutrition, and nurturing.  
Test to Stay (Modified Quarantine)
The New Mexico Public Education Department (PED) has implemented a modified quarantine program called Test to Stay. The Test to Stay program (T2S) allows unvaccinated close contacts (students and staff) an option to be tested for COVID-19 in order to attend school and participate in school activities (includes before and afterschool programs) while in quarantine. 
Proceso de respuesta rápida 
Los programas de cuidado infantil con un caso positivo de COVID-19 (o un contacto cercano) deben llamar a la línea de Admisión Centralizada: 1-833-866-3272. El área de Autorización de Cuidado Infantil del ECECD y el Centro de Servicios de la Primera Infancia de la UNM se unieron para simplificar los informes y ofrecer apoyo adicional. El personal de Admisión Centralizada proveerá a los programas de cuidado infantil el apoyo y la orientación necesaria para garantizar la seguridad de los niños y del personal, y que las aulas se puedan reabrir con las menores interrupciones posibles. Si bien el equipo regulatorio del ECECD continuará aceptando llamadas, recomendamos a los programas de cuidado infantil llamar a la línea de Admisión Centralizada de Respuesta Rápida para informar los casos positivos de COVID-19 (o de contacto cercano).
Como parte de este esfuerzo, los programas también pueden solicitar una referencia al Programa Families FIRST del ECECD, el cual puede ofrecer recursos de ayuda con seguros médicos, alimentos, y otros tipos de asistencia. Las enfermeras de Families FIRST pueden brindarle información, recursos y consejos sobre salud, nutrición y cuidados.
Test to Stay (Cuarentena modificada) 
El Departamento de Salud Pública (PED) de Nuevo México ha implementado un programa de cuarentena modificada llamado Test to Stay. El programa Test to Stay (T2S) permite a los contactos cercanos (estudiantes y personal) no vacunados disponer de la opción de hacerse una prueba de detección de COVID-19 para asistir a la escuela y participar en las actividades escolares (incluye programas antes y después de la escuela) mientras se encuentren en cuarentena.
Únase al ECECD el 6 o el 9 de diciembre (consulte los detalles en la sección del evento a continuación) para obtener un repaso sobre respuesta rápida y una revisión de los requisitos del programa T2S.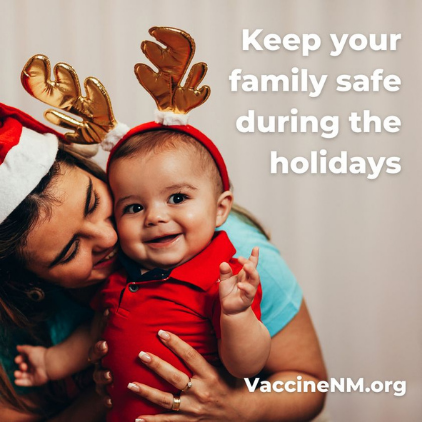 COVID-19 Vaccine
If you haven't already, now is the time to schedule your COVID-19 booster. The CDC says everyone 18 and over who is fully vaccinated should get a booster. COVID-19 vaccines are safe and effective, and they are a critical tool to bring the pandemic under control in New Mexico. The risk of infection, hospitalization, and death are all much lower for people who are vaccinated, compared to unvaccinated people. Boosting your immunity keeps you and your family protected. Schedule your booster today at VaccineNM.org. Schedule an appointment by phone 8 a.m. to 8 p.m. every day by calling 1-855-600-3453, then select option 3.   
The New Mexico Department of Health and the Public Education Department recently announced that children ages 5 to 11 are eligible to receive the Pfizer COVID-19 vaccine. This follows federal approvals by both the Food and Drug Administration and Centers for Disease Control and Prevention. Parents/guardians can register their children for the vaccine at vaccineNM.org. Parents/guardians can also link their accounts to their dependent's accounts at vaccineNM.org/kids. A dose of Pfizer for children 5-11 contains one-third the amount of active ingredient compared to the adult dose. Children would receive a second dose 21 days or more after their first shot.  
Eligible individuals may choose which vaccine they receive as a booster dose, regardless of which vaccine already received. Centers for Disease Control and Prevention's recommendations now allow for this type of mix and match dosing for booster shots. 
Available data right now shows that all three of the COVID-19 vaccines continue to be highly effective in reducing risk of severe disease, hospitalization, and death, even against the widely circulating Delta variant.  
Vacuna contra el COVID-19
Si aún no lo ha hecho, este es el momento de programar la aplicación de su vacuna de refuerzo contra el COVID-19. Los CDC establecen que toda persona de 18 años en adelante que haya recibido la serie de vacunación completa debe recibir un refuerzo. Las vacunas contra el COVID-19 son seguras y eficaces, y constituyen una herramienta fundamental para controlar la pandemia en Nuevo México. El riesgo de infección, hospitalización y muerte es mucho menor en las personas vacunadas que en las personas no vacunadas. Reforzar su inmunidad mantendrá su protección y la de su familia. Programe hoy su vacuna de refuerzo en VaccineNM.org. Para hacer una cita por teléfono, llame al 1-855-600-3453 todos los días de 8 a.m. a 8 p.m. y elija la opción 3.  
Los Departamentos de Salud y de Educación Pública de Nuevo México anunciaron recientemente que los niños de 5 a 11 años son ahora elegibles para recibir la vacuna de Pfizer contra el COVID-19. Este anuncio sigue a la aprobación de la vacuna en menores de edad por parte de la FDA (Administración de Alimentos y Medicamentos) y los CDC (Centros para el Control y la Prevención de Enfermedades). Los padres, madres y tutores pueden registrar a sus hijos para vacunarlos en vaccineNM.org. También pueden vincular sus cuentas a las de sus dependientes en vaccineNM.org/kids. Una dosis de Pfizer para niños de 5 a 11 años contiene un tercio de la cantidad del ingrediente activo en comparación con la dosis para adultos. Los niños recibirán una segunda dosis 21 días o más después de su primera inyección.
Las personas elegibles pueden decidir qué vacuna de refuerzo quieren recibir, sin importar cuál fue la primera vacuna que recibieron. Las recomendaciones de los CDC ahora permiten intercambiar las marcas de las vacunas para las dosis de refuerzo. También encontrará preguntas frecuentes sobre los refuerzos en https://vaccineNM.org.
Los datos disponibles en este momento indican que las tres vacunas contra el COVID-19 siguen siendo altamente eficaces para reducir el riesgo de enfermar gravemente, ser hospitalizado y morir, incluso con respecto a la variante delta, la cual es de amplia circulación.
COVID-19 Testing  
The State of New Mexico offers, free, fast, and accurate at-home COVID-19 saliva testing to all New Mexicans, with or without symptoms. Click here to order a test.
COVID testing is also available at Curative sites. To find a location, visit https://findatestnm.org/. The NMDOH recommends avoiding health clinics, hospitals, and urgent care facilities for surveillance testing – unless you are symptomatic and have been exposed to COVID-19.
Pruebas en Español
El estado de Nuevo México ofrece pruebas de COVID-19 en saliva gratuitas, rápidas y precisas para hacerse en el hogar, disponibles para todos los habitantes de Nuevo México, con o sin síntomas. Haga clic aquí para pedir una prueba de detección.
 Las pruebas del COVID-19 también están disponibles en los centros de Curative. Para encontrar un centro, visite: https://findatestnm.org/. El NMDOH recomienda no asistir a clínicas de salud, hospitales ni centros de atención de urgencia para hacerse pruebas por motivo de vigilancia, a menos que tenga síntomas y haya estado expuesto al COVID-19.   
Share Facts
COVID-19 is a highly infectious and fast-spreading virus. Symptoms and their effects can range from mild to severe and in certain cases result in extreme health complications and death. Know the facts about COVID-19 and help stop the spread of rumors. NMDOH and CDC have complied helpful resources to understand the facts of COVID-19 transmission and vaccine side effect.
NMDOH offers free COVID-19 printed materials to New Mexico businesses, organizations, community members, and schools. Choose between three kit sizes, which include banners, posters, flyers, and postcards. Click here for more information.
Comparta los datos:
El virus del COVID-19 es muy contagioso y de rápida propagación. Los síntomas y sus efectos pueden ir de leves a graves y, en ciertos casos, provocar complicaciones de salud extremas y la muerte. Conozca los datos sobre el COVID-19 y ayude a detener la propagación de rumores. El NMDOH y los CDC compilaron recursos útiles para comprender los datos de la transmisión del COVID-19 y los efectos secundarios de las vacunas.  
El NMDOH ofrece gratuitamente materiales impresos sobre el COVID-19 a las empresas, organizaciones, miembros de la comunidad y escuelas del estado. Elija entre tres paquetes de distintos tamaños que incluyen pancartas, pósteres, volantes y tarjetas postales. Haga clic aquí para encontrar más información.
Waterford UPSTART
Waterford UPSTART is an in-home kindergarten readiness program to help children develop the foundational academic and cognitive skills needed for school success. With funds made available by the New Mexico Legislature and allocated to ECECD, early learning providers (including Head Start and community-based providers) have an opportunity to participate in the school-based Waterford program. To learn more about Waterford UPSTART, visit nmececd.org/waterford.org.  
 Funding is limited, and participation will be on a first-come, first-served basis and based on local, identified need. To utilize Waterford, complete a registration form here.    
Waterford UPSTART
Waterford UPSTART
Waterford UPSTART es un programa domiciliario de preparación para el jardín de infantes que ayuda a los niños a desarrollar las habilidades académicas y cognitivas fundamentales, necesarias para el éxito escolar. Con los fondos disponibles que la legislatura de Nuevo México le asignó al ECECD, los proveedores de aprendizaje temprano (incluidos los proveedores de Head Start y los proveedores comunitarios) tienen la oportunidad de participar en el programa escolar Waterford. Para obtener más información sobre Waterford UPSTART, visite nmececd.org/waterford.org.
El financiamiento es limitado y la participación será por orden de llegada y con base en la necesidad local identificada. Para utilizar Waterford, complete el formulario de inscripción aquí.
Elevate New Mexico Child Care
ECECD partnered with Wonderschool to offer free child care management software, Elevate New Mexico Child Care. Operating a child care program is hard work, but you don't have to do it alone. Get access to free business coaching, child care management software, and community coaching to help you streamline time-consuming business tasks. By using the Elevate, child care providers can save time on many of the day-to-day administrative tasks needed to run their program. This program is available at no cost to child care businesses across New Mexico. The software is available in Spanish! Visit Elevate New Mexico Child Care, or text "ELEVATE" to 505-391-3176 to learn more!    
Elevate December Newsletter
With so much amazing news to highlight in New Mexico, the Elevate New Mexico Child Care team created a monthly newsletter to share provider stories!
Elevate New Mexico Child Care 
El ECECD se ha asociado con Wonderschool para ofrecer sin cargo Elevate New Mexico Child Care, un software de administración de cuidado de niños. Operar un programa de cuidado de niños exige mucho trabajo, pero usted no tiene por qué hacerlo sin ayuda. Reciba acceso a asesoramiento de negocios, al software de gestión del cuidado de niños y a capacitación de la comunidad en forma gratuita y simplifique las tareas de negocios que llevan mucho tiempo. Al utilizar el software Elevate, los proveedores ahorran tiempo en numerosas tareas administrativas que se requieren todos los días para dirigir su programa. Elevate está disponible sin costo para las entidades de cuidado de niños de todo Nuevo México. ¡El software también está disponible en español! Para más información visite: Elevate New Mexico Child Care, o envíe el mensaje de texto "ELEVATE" al 505-391-3176.   
Evento de agradecimiento
Como agradecimiento a los proveedores de cuidado infantil, Wonderschool organizó un evento presencial sin cargo. Los asistentes recibieron bolsas de regalos, una cena y además aprendieron cómo Elevate New Mexico Child Care puede simplificar los procesos de negocios. Para enero está previsto otro evento presencial en Explora, el centro de Albuquerque. Pronto se anunciarán más detalles. 
Health and Safety Grants  
Health and Safety grants are available to early childhood programs in New Mexico with up to 50 employees. The grants will award up to $2,500 per program and are being offered on a first-come basis, until funding is available or until May 27, 2022. To be eligible, your facility must be headquartered or provide services in New Mexico. All funds awarded to your program must be FULLY expended before June 30, 2022.   
English application here, Spanish application here. For questions related to this grant, please email minigrants@swrecnm.org.  
Subvenciones de salud y seguridad  
Hay subvenciones de salud y seguridad para los programas de la primera infancia en Nuevo México con un máximo de 50 empleados. Las subvenciones otorgarán hasta $2500 por programa y se ofrecerán por orden de llegada, mientras haya fondos disponibles o hasta el 27 de mayo de 2022. Para ser elegible, su centro debe tener sede o brindar servicios en Nuevo México. Todos los fondos adjudicados a su programa deben haberse gastado POR COMPLETO antes del 30 de junio de 2022.   
Solicitud en inglés aquí. Solicitud en español aquí. Si tiene preguntas relacionadas con esta subvención, escriba a minigrants@swrecnm.org.  
The Family Infant Toddler (FIT) Statewide Surveys
The Family Infant Toddler (FIT) Program recently released three surveys statewide. Two surveys for FIT Providers and one for Pediatricians.  The FIT program is requesting that surveys be completed by the close of business on December 15, 2021. Brief descriptions and survey links can be found below: 
This survey is designed to collect insights on the quality of relationships between FIT Providers and the Pediatricians in their service area, from the perspective of the FIT Provider. 
This survey collects similar information as the one described above, but it is from the perspective of the Pediatrician.  
This is a brief, three question survey for FIT Providers gauging their interest in and comfort with engaging in self-reflective equity work.  
We have received many responses already to these surveys – a big thank you to those who have shared their insights! Based on current responses, here are a few key learnings: 
According to the 23 responses we have received, on Survey 1: FIT Providers' Perception with Pediatrician, most respondents rate their relationship with local Pediatricians as either "good" or "fair". According to the 24 responses we have received so far, from Survey 3: FIT Interest in and Comfort with Equity Work, almost all respondents are interested in engaging in equity work, but most respondents would like to be supported by a skilled facilitator. See chart below: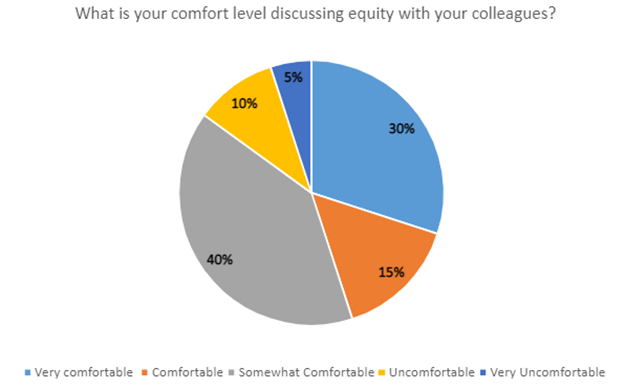 El programa Familias, Bebés y Niños (FIT, por sus siglas en inglés) presentó hace poco tres encuestas que abarcan todo el estado
El programa Familias, Bebés y Niños (FIT, por sus siglas en inglés) presentó hace poco tres encuestas que abarcan todo el estado.  Dos encuestas para proveedores del programa FIT y una para pediatras.  El programa FIT está solicitando que se completen las encuestas a más tardar al cierre del 15 de diciembre de 2021. A continuación se pueden encontrar breves descripciones y los enlaces de las encuestas: 
Esta encuesta tiene como fin obtener percepciones sobre la calidad de las relaciones entre los proveedores FIT y los pediatras en su área de servicio, desde la perspectiva del proveedor FIT. 
Esta encuesta recopila información similar a la descrita anteriormente, pero desde la perspectiva del pediatra.  
Esta es una encuesta breve de tres preguntas dirigida a los proveedores FIT, que evalúa el interés y la comodidad de estos al participar en trabajo de equidad autorreflexivo.  
Ya hemos recibido numerosas respuestas a estas encuestas. ¡Nuestro gran agradecimiento a aquellos que han compartido sus percepciones! En función de las respuestas recibidas, estos son algunos de los datos clave que se han obtenido: 
De acuerdo con las 23 respuestas que hemos recibido, en la Encuesta 1: Percepción de los Proveedores FIT con respecto a los pediatras, la mayoría de los encuestados califican su relación con los pediatras locales ya sea como "buena" o "aceptable". De acuerdo con las 24 respuestas que hemos recibido hasta el momento, en la Encuesta 3: Interés de proveedores FIT en el trabajo de equidad y su comodidad al trabajar en él, casi todos los encuestados tienen interés en participar en el trabajo de equidad, pero a la mayoría de ellos les gustaría contar con el respaldo de un facilitador competente. Vea el diagrama a continuación:
Home Visiting Monthly Training Sessions
Please join Home Visiting online from 10:30 a.m. to 12 p.m. on Friday, December 17 for the second in a series of monthly Zoom sessions to provide an opportunity for statewide home visitors and managers to develop strategies together to support nurturing home learning environments for children birth to 5 years of age.  This month's topic will be: Supporting Developmental Parenting During Mealtime Routines. Register by clicking on the 'register now' on our Home Visiting Training Calendar.  
Visitas al hogar
Por favor únase en línea a Home Visiting (Visitas domiciliarias) el viernes 17 de diciembre, de 10:30 a.m. a 12 p.m., en la segunda de una serie de sesiones mensuales vía Zoom con el fin de ofrecer a visitadores domiciliarios y administradores de todo el estado la oportunidad de desarrollar estrategias en forma conjunta para apoyar entornos de aprendizaje hogareños enriquecedores para niños desde el nacimiento hasta los 5 años de edad.  El tema de este mes será el siguiente: Apoyo de técnicas parentales para el desarrollo durante las rutinas a la hora de comer. Regístrese haciendo clic en 'register now' en nuestro Calendario de capacitación en visitas domiciliarias.  
Workforce Supports 
Join the ECECD Team for any one of the virtual office hours events listed below to learn more about scholarships, wage supplement, bilingual incentive, and PreK Pay Parity. Get help with your application, ask questions, or get more information on any of our programs. Assistance is available in English or Spanish at all sessions.
Click dates below to view meeting details:
December 28, 2021 
11:00 am – 2:00 pm 

 

Phone:  1 346 248 7799  

Meeting ID: 953 3958 7885  

Passcode: 674336  
January 4, 2022 
5:00 pm – 7:00 pm 

 

Phone:  1 346 248 7799 

 

Meeting ID: 948 0081 0189 

 

Passcode: 324590 

 
Apoyos para la fuerza laboral
Para obtener más información sobre becas, suplementos salariales, incentivos bilingües y paridades salariales para PreK, únase al equipo del ECECD en el horario de la oficina virtual para cualquiera de los eventos que se indican a continuación. Reciba ayuda con su solicitud, haga preguntas u obtenga más información sobre cualquiera de nuestros programas. Disponemos de ayuda en inglés y en español en todas las sesiones. 
28 de diciembre de 2021 
11:00 a.m. a 2:00 p.m.   

Teléfono:  1 346 248 7799 

 

ID de la reunión: 953 3958 7885 

 

Contraseña: 674336 

 
4 de enero de 2022  
5:00 p.m. a 7:00 p.m. 

Teléfono:  1 346 248 7799 

 

ID de la reunión: 948 0081 0189 

 

Contraseña: 324590 

 
Early Childhood Community Call  
Join ECECD Secretary Groginsky and special guests every other Tuesday from 8-9 a.m. to discuss important issues pertaining to New Mexico early childhood community. The next biweekly Early Childhood Community Call with the Secretary will take place on December 14, 2021.     
  
Did you miss the most recent community call? To view the most recent recording and meeting resources click here: ECECD Early Childhood Community Call Recording: November 30, 2021.
Zoom Meeting Details (same link every meeting):    
Telephone: 669-900-9128 or 253-215-8782
Webinar ID: 958 5783 9577
Upcoming Call Dates:  
Last call of 2021: Tuesday, December 14

2022 Schedule: Biweekly starting Tuesday, January 4, 2022
Facebook Live Stream:
Watch the community call via New Mexico Early Childhood Education and Care Department Facebook page.
Llamada con la comunidad de la primera infancia
Acompañe a la secretaria Groginsky del ECECD y los invitados especiales los martes de 8 a 9 a. m., para hablar de temas importantes relativos a la comunidad de la primera infancia en Nuevo México. La próxima llamada quincenal con la comunidad de la primera infancia se llevará a cabo el 14 de diciembre de 2021.      
¿Se perdió la última llamada con la comunidad? Haga clic para ver las grabaciones y los recursos de las reuniones más recientes: Grabaciones de las llamadas del ECECD con la comunidad de la primera infancia: 30 de noviembre de 2021.
Detalles de la reunión por Zoom (el mismo enlace para cada reunión):       
Teléfono: 669-900-9128 o 253-215-8782       
ID del seminario web: 958 5783 9577     
Fechas de las próximas llamadas:     
Última llamada de 2021: Martes 14 de diciembre
Programación para 2022: Quincenal, a partir del martes 4 de enero de 2022
Con transmisión en vivo por Facebook:
Mire la reunión en la página de Facebook del Departamento de Educación y Cuidado de la Primera Infancia de Nuevo México.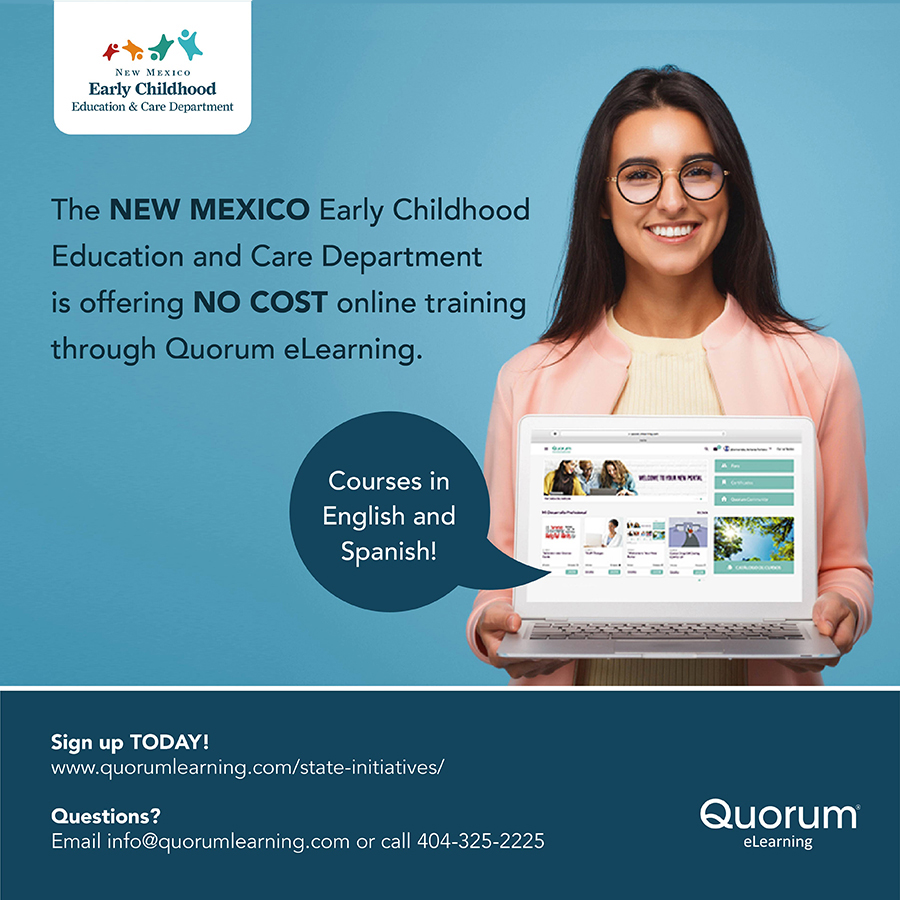 Quorum
Quorum has been extended in New Mexico for another year…offering over 200 hours of high quality online courses in English and Spanish!  You can use Quorum courses to meet child care licensing requirements, support the completion of the 45-hour required course, and satisfy other federal and state training requirements. New courses are added in Quorum each month! Quorum is available at NO COST to all early educators in New Mexico through ECECD. Join Quorum today at https://www.quorumlearning.com/state-initiatives/  
Quorum
Quorum se ha extendido en Nuevo México un año más, ¡ofreciendo más de 200 horas de cursos en línea de alta calidad en inglés y en español! Puede utilizar los cursos de Quorum para cumplir con los requisitos de la licencia para el cuidado de niños; comprobar que completó el curso obligatorio de 45 horas y cumplir con otros requisitos de capacitaciones federales y estatales. Cada mes se añaden nuevos cursos en Quorum, el cual está disponible SIN COSTO para todos los educadores de la primera infancia de Nuevo México a través del ECECD. Únase hoy a Quorum en https://www.quorumlearning.com/state-initiatives/.
IECMHC Intro for Professionals
ECHO for Infant Early Childhood Mental Health Consultation Introduction for Professionals
Free program for Head Start and Early Head Start providers (teachers, administrators, directors) to engage in expert-led workshops on the topic of mental health consultation
Connect with a learning community made up of other professionals in the field to share your own experience and learn from others
Community cohort experience: Participate in weekly 60-minute sessions for 4 weeks