Sign up to receive weekly updates from ECECD via email! 
Important updates to child care assistance regulations
ECECD is pleased to announce exciting news for providers who participate in the child care assistance (CCA) program. Highlights from the proposed changes to CCA regulations include: 
Higher rates for providers

– ECECD has conducted a second round of cost modeling to inform updated child care assistance reimbursement rates. The new rates will be significantly higher, increasing by 20-30 percent for the average program participating in CCA. The new rates are calculated to preserve the $3/hr raise for child care workers currently provided through the Competitive Pay for Professionals grant, which will expire on September 1, 2023. New rates are set to go into effect August 1, 2023.

 
Expanded eligibility and family copay waivers extended

– The CCA program will continue to offer expanded income eligibility for child care assistance to families earning up to 400% Federal Poverty Level ($120k/year for a family of four). ECECD will also continue waive all copays for eligible families. Both initiatives were originally set to expire July 1, 2023 –

both will continue indefinitely.

 

 

New family copay schedule

– Copays will continue to be waived, but ECECD is required under federal regulations to maintain a copay schedule within its CCA rules. The new copay schedule is more equitable, balanced, and less-financially burdensome for families, capped at five percent of household income. ECECD will provide public notice three months in advance in the event the new schedule takes effect.

 

No Gross Receipts Taxes (GRT) paid by CCA families

– The new CCA rates are calculated to offset Gross Receipts Taxes for providers who are required to pay them. Providers may not charge CCA families GRT moving forward.

 
A full copy of the new proposed CCA regulations are available on the ECECD website here.
Members of the public may submit written comment on the proposed regulation changes to ECECD via the website linked below by 11 a.m. on June 22, 2023. Public can also provide oral comment at a public hearing at the time and date below:  
June 22, 2023 from 9 – 11 a.m.
PERA Building, Apodaca Hall (2nd floor)
1120 Paseo de Peralta
Santa Fe, NM
Zoom and telephone options will also be available for those who cannot attend the public hearing in person. More information on the public hearing and instructions for submitting comment is available at 5.3.23 Notice of Rulemaking and Public Rule Hearing.
ECECD will consider public comment to make any amendments needed to the proposed rules based on the important perspectives of the public prior to finalizing the rules.   
En Español: Actualizaciones importantes de las normas sobre ayuda para el cuidado infantil
Actualizaciones importantes de las normas sobre ayuda para el cuidado infantil
El ECECD se complace en anunciar novedades emocionantes para los proveedores que participan del programa de ayuda para el cuidado infantil (CCA). Entre los cambios más destacados de las normas del programa CCA se incluyen:
Tasas más elevadas para los proveedores – El OCDE ha realizado una segunda ronda de modelización de costos que permite actualizar las tasas de reembolso de la ayuda para el cuidado infantil. Las nuevas tarifas serán significativamente más elevadas, con un aumento de entre el 20 % y el 30 % para el programa medio que participe en la CCA. El cálculo de las nuevas tarifas permite preservar el aumento de $3/hora para los trabajadores de guarderías que se concede actualmente a través de la subvención Competitive Pay for Professionals, que estará vigente hasta el 1 de septiembre de 2023. Las nuevas tarifas entrarán en vigor el 1 de agosto de 2023.
Ampliación de la elegibilidad y de las exenciones de copago familiar – El programa CCA seguirá ofreciendo una ampliación de la elegibilidad por ingresos para la ayuda para el cuidado infantil a las familias que ganen hasta el 400 % del Nivel Federal de Pobreza ($120,000/año para una familia de cuatro miembros). El ECECD también seguirá eximiendo de todos los copagos a las familias elegibles. Al principio, ambas iniciativas expiraban el 1 de julio de 2023, pero a partir de ahora se mantendrán indefinidamente.
Nuevo cronograma de copagos familiares – Si bien se seguirá eximiendo de los copagos, las normas federales obligan al ECECD a mantener un cronograma de copagos dentro de las normas de la CCA. El nuevo cronograma de copagos es más equitativo, equilibrado y menos oneroso económicamente para las familias, con un tope del 5 % de los ingresos familiares. Tres meses antes de la entrada en vigor del nuevo cronograma, el ECECD emitirá una notificación pública.
Las familias del programa CCA no pagarán impuestos sobre los ingresos brutos (GRT) – Las nuevas tarifas CCA se calculan para compensar los impuestos sobre los ingresos brutos de los proveedores que están obligados a pagarlos. A partir de ahora, los proveedores no podrán cobrar el GRT a las familias del programa CCA.
En el sitio web del OCDE se puede acceder a una copia completa de la nueva regulación propuesta del programa CCA.
22 de junio de 2023 de 9.00 a 11.00 h.
Edificio PERA, salón Apodaca, segundo piso
1120 Paseo de Peralta
Santa Fe, NM
También habrá opciones de zoom y teléfono para quienes no puedan asistir en persona a la audiencia pública. Para más información sobre la audiencia pública y las instrucciones para presentar comentarios, consulte el sitio web del ECECD: 5.3.23 Notice of Rulemaking and Public Rule Hearing | Early Childhood Education & Care Department (nmececd.org)
El ECECD tendrá en cuenta los comentarios del público para introducir las modificaciones necesarias en las normas propuestas sobre la base de las importantes perspectivas del público antes de completar las. 
New Fingerprint Vendor
Beginning May 1, providers will need to use the new vendor IDEMIA. IDEMIA, serves over 600+ governments, state and federal organizations and 2,300+ enterprise customers across the globe. 
During the inaugural week of the IDEMIA solution, 11 sites, dispersed geographical throughout New Mexico, will be available with more than 2,600 appointment slots open. Additional fingerprinting sites and appointment slots will open each subsequent week until 50 sites are available by June 30, 2023." 
En Español: Nuevo proveedor para la toma de huellas dactilares
A partir del 1.º de mayo, los proveedores deberán recurrir a IDEMIA, el nuevo proveedor de verificación de huellas dactilares. IDEMIA atiende a más de 600 gobiernos, organizaciones estatales y federales y más de 2300 clientes empresariales en todo el mundo. 
Durante la primera semana de operación de la solución de IDEMIA, estarán disponibles 11 centros, distribuidos geográficamente en todo Nuevo México, con más de 2600 cupos abiertos para citas. Cada semana posterior se abrirán centros adicionales para la toma de huellas dactilares y cupos para citas hasta que haya 50 centros disponibles el 30 de junio de 2023. 
New Moments Together blog: Just Who is Alax, Anyway?
En Español: Nuevo blog "Moments Together"¿Pues, quién es Alax?
The Early Show with Alax! Episode 4: Playing is Learning
In this episode we learn about play! Alax and our special guest Lindsey explore the power of play. How does it help little ones grow? And what games work for their tiny hands? Best of all, we discover that play doesn't require expensive toys, and can happen in the moments you and your child already share.
In short 3-5 minute episodes (produced in English and dubbed in Spanish), Alax and guests cover common questions—big and small—and share the programs, resources, and information available to help families.  
Sleep –

Home visitor Lily shares tools to help babies sleep safe and sound

 

Feelings –

Pre-K teacher Amy talks emotions and how to manage the big ones

 

Growing –

Researcher Hailey and FIT provider Mi'raj cover how to support healthy growth and development for little ones

 

Play –

Occupational Therapist Lindsey explores the power of play in our everyday lives

 
For more information visit: TheEarlyShow.org. 
En Español: Jugar es aprender
Acompaña a Alax y Lindsey, la campeona del juego, y aprende cómo el juego puede estimular el crecimiento y desarrollo saludable de los niños pequeños.
En breves episodios con duración de entre 3 y 5 minutos (producidos en inglés y doblados al español), Alax y sus invitados abordan preguntas frecuentes, grandes y pequeñas, y comparten los programas, recursos e información disponibles para ayudar a las familias.
El sueño: Lily, visitante a domicilio, comparte herramientas para ayudar a que los bebés duerman sanos y salvos
Los sentimientos: Amy, profesora de preescolar, nos habla de las emociones y de cómo gestionar las más importantes.
El crecimiento: Hailey, investigadora, y Mi'raj, proveedora del programa FIT (Family Infant Toddler: Programa para Familias, Bebés y Niños), explican cómo favorecer el crecimiento y el desarrollo saludables de los más pequeños.
El juego: la terapeuta ocupacional Lindsey explora el poder del juego en nuestra vida cotidiana
Para obtener más información, visite: TheEarlyShow.org.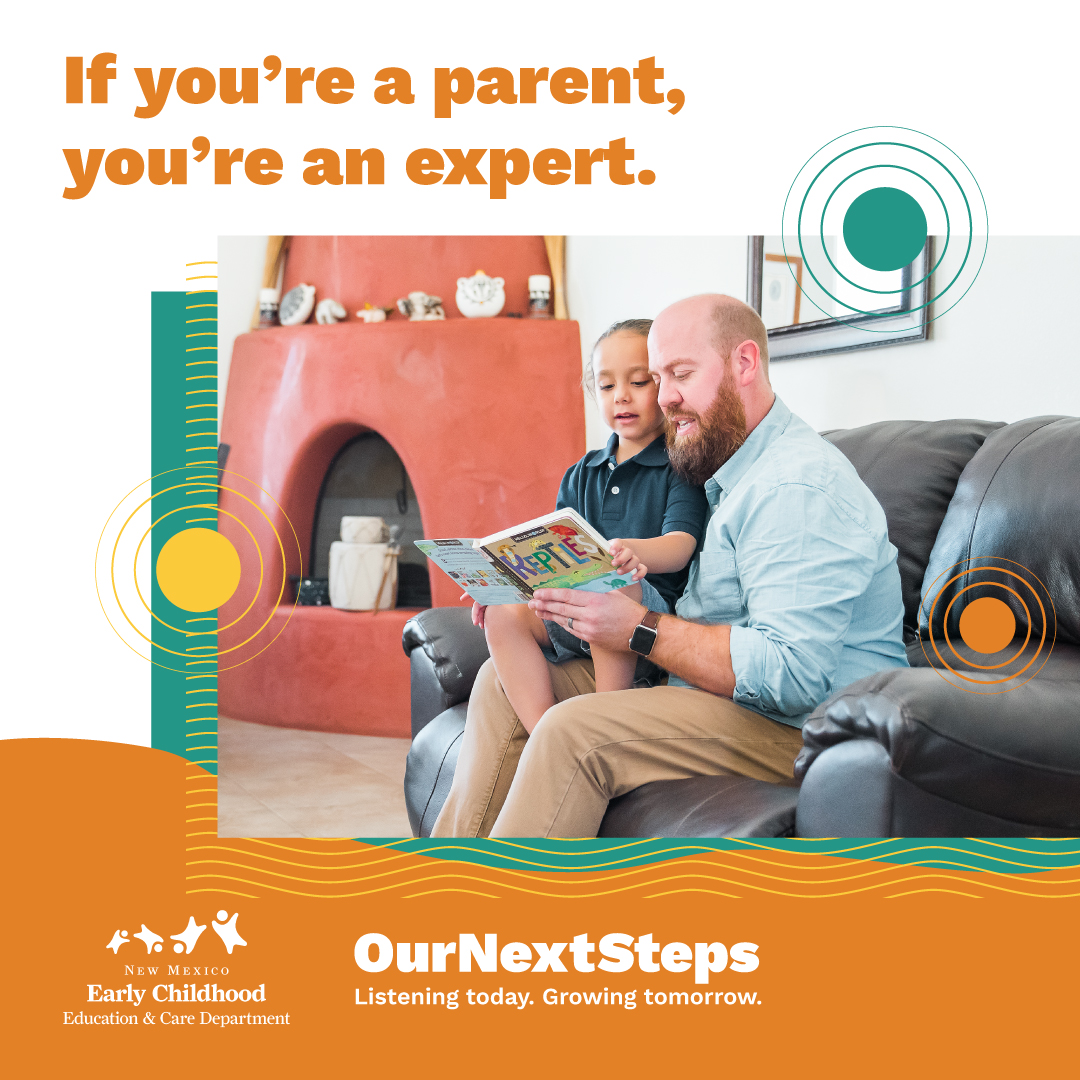 Share your voice to shape early childhood services in New Mexico
ECECD wants to hear from you — the dedicated parents and caregivers of young children in New Mexico. You care for them, and we want to best care for you. As a new department — formed in 2020 as one of the first in the nation — we're growing with New Mexico families. By completing this 15-minute survey, parents and caregivers of children ages 0-5  can help guide our next steps.   
 If you take care of young ones ages 0–5, we need your help understanding what early childhood programs you use, what works well about them, and what improvements could be made to make them better for you and your family. 
En Español: Compartan su opinión para dar forma a los servicios para la primera infancia en Nuevo México
El Departamento de Educación y Cuidado en la Primera Infancia (ECECD, por sus siglas en inglés) quiere escucharlos, padres y madres dedicados y cuidadores de niños pequeños en Nuevo México. Ustedes cuidan de ellos, y nosotros queremos cuidar lo mejor posible de ustedes. Como un nuevo departamento, constituido en 2020 como uno de los primeros en el país, estamos creciendo con las familias de Nuevo México. Al contestar esta encuesta de 15 minutos, los padres y cuidadores de niños de 0 a 5 años de edad pueden ayudarnos a orientar nuestros próximos pasos.    
Si cuidan niños de 0 a 5 años de edad, necesitamos que nos ayuden a saber qué programas para la primera infancia utilizan, qué cosas funcionan bien en ellos y qué mejoras podrían introducirse para que sean mejores para ustedes y su familia.  
Entre a la encuesta aquí: Next Steps NM  
Recursos para socios   
Estamos trabajando para llegar a las familias de todo Nuevo México, y cada comunidad es diferente. Si usted es un socio que puede ayudar a alentar a los padres y cuidadores a responder la encuesta en su localidad, hemos creado un kit de herramientas de divulgación para usted. Todo tipo de organizaciones son bienvenidas y se les invita a colaborar en la difusión. Algunos ejemplos de socios y organizaciones son:  
Guarderías y escuelas 

 

Organizaciones sin fines de lucro 

 

Bibliotecas 

 

Hospitales y centros de maternidad 

 

Iglesias 

 
 Herramientas para socios: ECECD Survey Outreach Toolkit – English – Google Docs 
Quorum is a free online training program available to early childhood professionals throughout New Mexico. Quorum includes 200+ hours of engaging online professional development, in both English and Spanish. Sign up for your no cost Quorum account at: http://ow.ly/FGjN50FPTHT. 
Interested in Trauma Informed Practices? The Quorum courses below address the topic of trauma responsive caregiving: 
Trauma Informed Practices

(3 hour

course

)

 

Understanding Child Abuse and Prevention

(3 hour

course

)

 

A Beginners Guide to Resilience

(

coming

soon

)

 

Self-Care for Educators

(4 hour

course

)

 

To Expel or Not to Expel

(4 hour

course

)

 

Family Engagement: The Road to Better Outcomes for Children

(4 hour

course

)

 

Challenging Behavior: Reveal the Meaning

(3 hour

course

)

 

Responsive Caregiving

(2 hour

course

)

 
En Español: Desarrollo profesional gratuito para educadores infantiles
Quorum es el programa gratuito de capacitación en línea disponible para todos los profesionales de la educación para la primera infancia en todo Nuevo México. Quorum incluye más de 200 horas de desarrollo profesional atractivo en línea, tanto en inglés como en español. Obtenga una cuenta gratuita para Quorum: http://ow.ly/FGjN50FPTHT. 
¿Le interesan las prácticas informadas de trauma? Los siguientes cursos de Quorum abordan el tema de los cuidados sensibles al trauma:  
Prácticas informadas de trauma

(curso de 3 horas)

 

 

Comprender el maltrato infantil y su prevención

(curso de 3 horas)

 

 

Guía de resiliencia para principiantes

(próximamente)

 

 

Autocuidado para educadores

(curso de 4 horas)

 

 

Expulsar o no expulsar

(curso de 4 horas)

 

 

Participación de la familia: El camino hacia mejores resultados para los niños

(curso de 4 horas)

 

 

Comportamiento desafiante: Revelar el significado

(curso de 3 horas)

 

 

Cuidado responsable

(curso de 2 horas)

 

 
Child Care Licensing Regulations: Back to Basics Training  (Course #CCLR-ON-220606) 
The Child Care Licensing Regulations: Back to the Basics training is designed to help child care providers identify key aspects of a licensing survey visit and changes a provider can make to improve the supervision of children in their care. This training will assist you in recognizing any strengths or challenges in providing quality social emotional environments for children; to include exploring community resources available to assist you in providing high quality care for young children.  
Child Care Assistance Provider Orientation Training  (Course #CCA-ON-22-608) 
The Child Care Assistance Provider Orientation training is designed to help child care providers understand the eligibility requirements for families that apply for child care. It will provide guidance on how to interpret the Child Care Assistance contract, to include determining the hours per week the child can attend and co-payments for each month. Providers will also learn about the reporting requirements defined by the Child Care Assistance Program. 
En Español: ¡Disponible ahora en NMELS!
Child Care Licensing Regulations: Back to Basics Training  (Curso #CCLR-ON-220606)  
La capacitación Child Care Licensing Regulations: Back to the Basics (Normativa sobre la concesión de licencias para el cuidado infantil: Capacitación básica) está diseñada para ayudar a los proveedores de cuidado infantil a identificar los aspectos clave de una visita de inspección para la concesión de licencia y los cambios que un proveedor puede hacer para mejorar la supervisión de los niños a su cargo. Esta capacitación le ayudará a reconocer las fortalezas y debilidades a la hora de ofrecer entornos socioemocionales de calidad para los niños, e incluirá un análisis de los recursos comunitarios disponibles para ayudarle a ofrecer cuidados de alta calidad a los niños pequeños.     
Child Care Assistance Provider Orientation Training  (Curso #CCA-ON-22-608)  
La capacitación Child Care Assistance Provider Orientation (Capacitación orientativa para proveedores de asistencia para el cuidado infantil) está diseñada para ayudar a los proveedores de asistencia para el cuidado infantil a comprender los requisitos de elegibilidad para las familias que solicitan asistencia para el cuidado infantil. Proporcionará orientación sobre cómo interpretar el contrato de asistencia para el cuidado infantil, para incluir la definición de las horas semanales a las que puede asistir el niño y los copagos de cada mes. Los proveedores también aprenderán sobre los requisitos de presentación de informes definidos por el Programa de Asistencia para el Cuidado Infantil.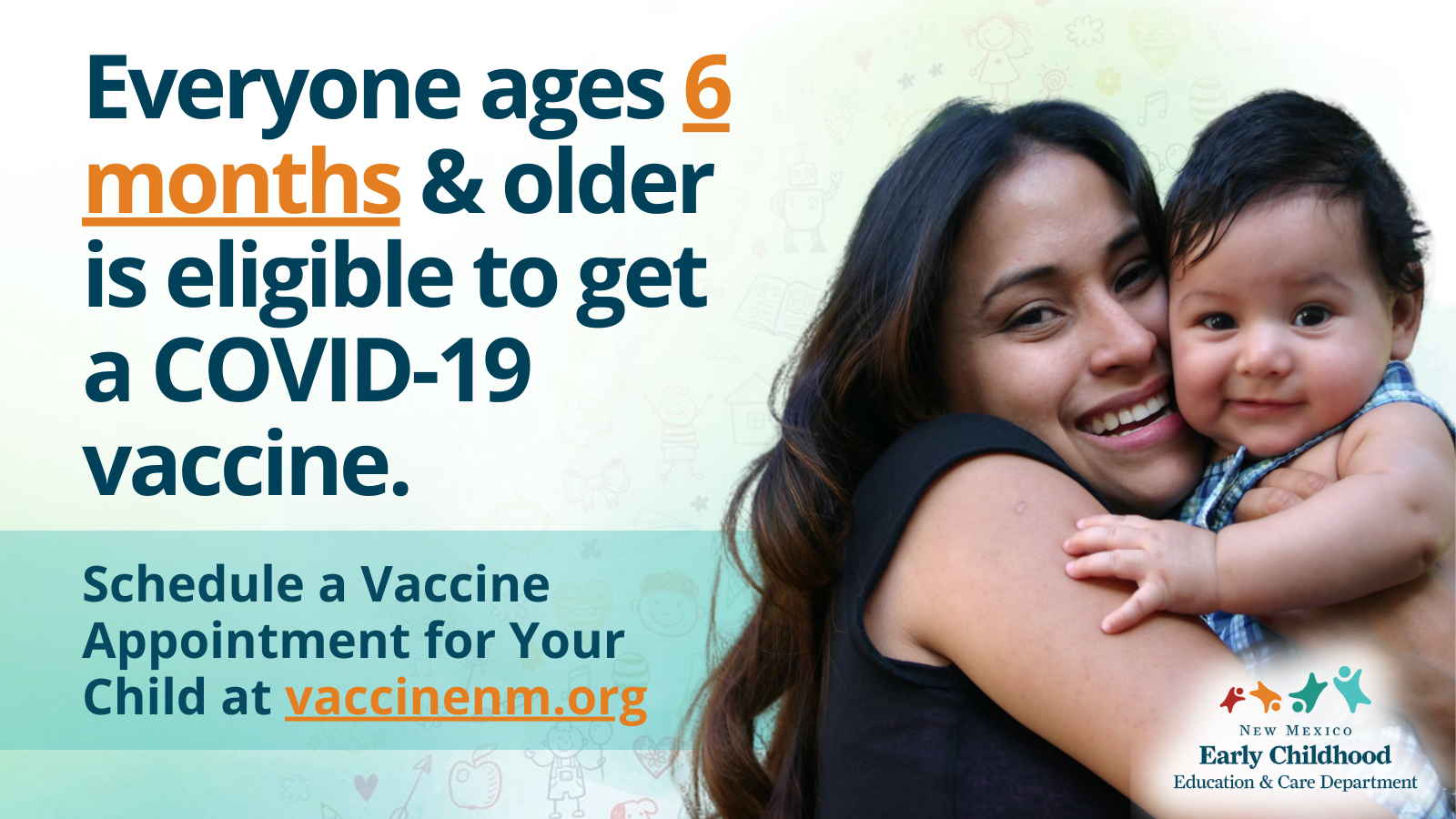 Children 6 Months and Older Can Now Get the COVID-19 Vaccine
The New Mexico Department of Health has announced that children ages 6 months to 4 years old are now eligible to receive a free COVID-19 vaccination, following approvals from the Food and Drug Administration and Centers for Disease Control and Prevention. We ask that you please share this information with families in your network.
In addition to protecting young children in child care and PreK settings, COVID-19 vaccines for this age group can also benefit working parents, employers, and child care providers by minimizing disruptions when classrooms are forced to shut down due to close contacts. Children two and over who are fully vaccinated no longer have to quarantine at home after exposure, as long as they are asymptomatic and can wear a well-fitting mask.
Parents and guardians can find more information and schedule an appointment at dependents | NMDOH (vaccinenm.org).
COVID-19 vaccines are safe and effective, and they are a critical tool to bring the pandemic under control in New Mexico. The risk of infection, hospitalization and death are all much lower for people who are vaccinated, compared to unvaccinated people.
En Español: Los niños de 6 meses en adelante ahora pueden recibir la vacuna contra el COVID-19
Los niños de 6 meses en adelante ahora pueden recibir la vacuna contra el COVID-19
El Departamento de Salud de Nuevo México anunció que los niños de 6 meses a 4 años ahora son elegibles para recibir una vacuna gratuita contra el COVID-19, luego de las aprobaciones de la Administración de Alimentos y Medicamentos y los Centros para el Control y la Prevención de Enfermedades. Le pedimos que comparta esta información con las familias de su red.
Además de proteger a los niños pequeños en entornos de cuidado infantil y preescolar, las vacunas COVID-19 para este grupo de edad también beneficiarán a los padres, empleadores y proveedores de cuidado infantil que trabajan al minimizar las interrupciones cuando las aulas se ven obligadas a cerrar debido a contactos cercanos. Los niños de dos años o más que están completamente vacunados ya no tienen que ponerse en cuarentena en casa después de la exposición, siempre y cuando sean asintomáticos y puedan usar una máscara bien ajustada. 
Los padres y tutores pueden encontrar más información y programar una cita en dependents | NMDOH (vaccinenm.org)
Los CDC dicen que todas las personas mayores de 12 años que estén completamente vacunadas deben recibir una dosis de refuerzo. Las dosis de refuerzo pueden administrarse 5 meses después de haber recibido la vacunación completa con las vacunas de ARNm (Pfizer o Moderna) y 2 meses después de aplicarse la vacuna de J&J. Las dosis de refuerzo no tienen necesariamente que ser de la misma marca que las de la serie inicial; pueden mezclarse y combinarse. Las dosis de refuerzo son especialmente importantes en este momento, debido a la variante ómicron.  Los niños de 12 años en adelante con condiciones de compromiso inmunitario pueden recibir un segundo refuerzo.
Las vacunas contra el COVID-19 son seguras y eficaces, y constituyen una herramienta fundamental para controlar la pandemia en Nuevo México. El riesgo de infección, hospitalización y muerte es mucho menor en las personas vacunadas que en las personas no vacunadas. Reforzar su inmunidad mantendrá su protección y la de su familia. Programe hoy su vacuna de refuerzo en VaccineNM.org. Para hacer una cita por teléfono, llame al 1-855-600-3453 todos los días de 8 a.m. a 8 p.m. y elija la opción 3.