Press Release
FOR IMMEDIATE RELEASE
October 6, 2023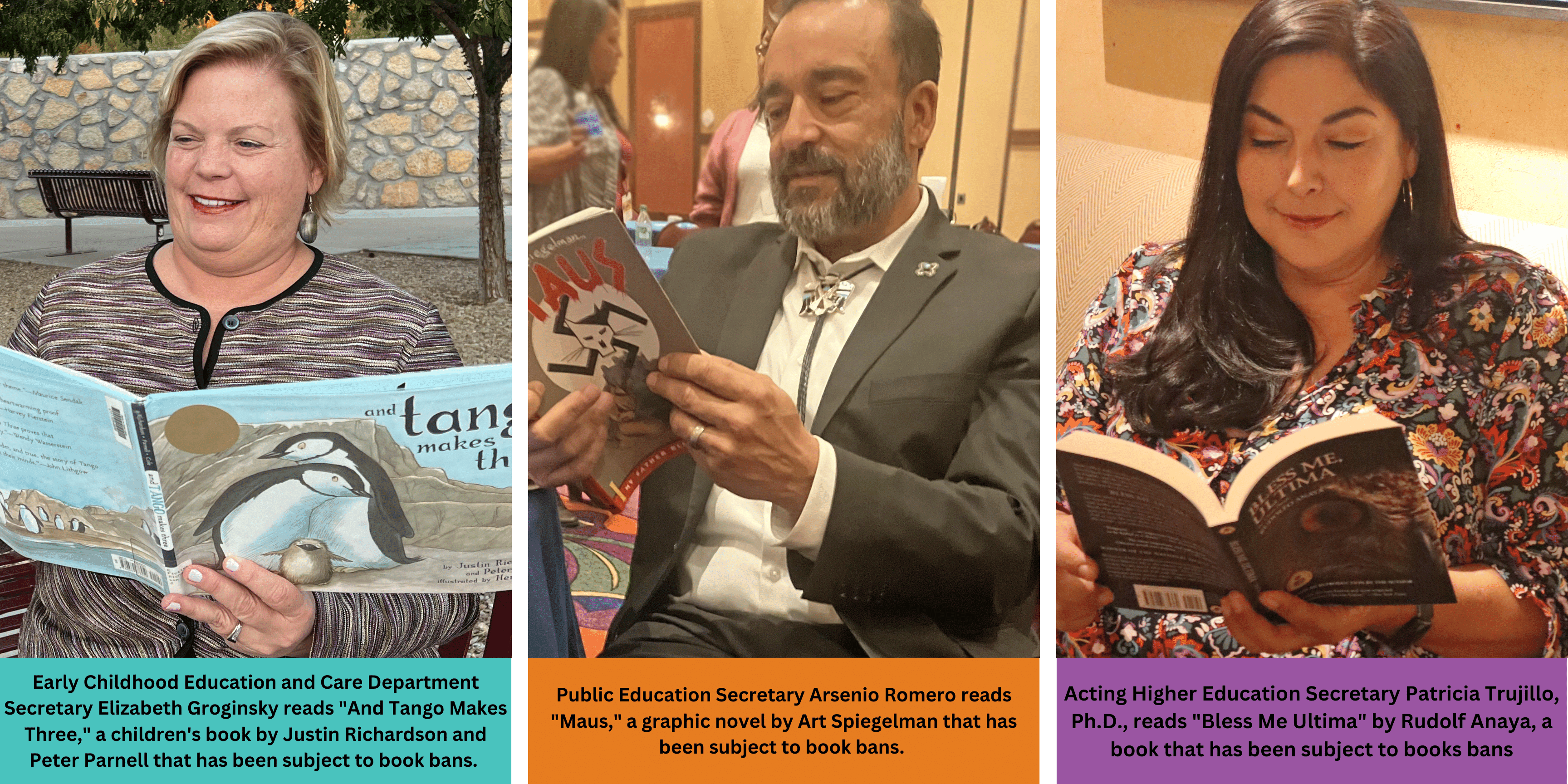 New Mexico education agencies champion freedom to read during Banned Books Week 
State leaders emphasize importance of open access to information for learning 
SANTA FE – New Mexico's three education agencies are joining together to emphasize New Mexico's commitment to maintaining access to books and informational materials that include diverse subjects and perspectives. 
Observed October 1st through 7th, Banned Books Week seeks to draw attention to the harmful effects of attempts to remove or restrict reading materials and to engage in public dialogue about the importance of representing diverse histories and experiences in schools, universities, early childhood education centers, and other settings. The theme for this year's observance is "Let Freedom Read." 
"Sharing stories with young children is a fundamental part of early learning," said ECECD Cabinet Secretary Elizabeth Groginsky. "Access to age-appropriate books that illustrate the wonderful diversity of culture, language, and human experience is so important for helping children understand the world around them and developing their self-esteem and identity." 
"Banned books often contain the truths that society is hesitant to confront. By sidelining them, we risk stifling voices that challenge, voices that inspire, and voices that heal. As educators and advocates for the future, it is our duty to ensure that young minds have access to diverse narratives. For it is through understanding and dialogue that we craft a more inclusive and harmonious world," said Public Education Department Secretary Arsenio Romero.  
"In a time where literature aimed at readers of all ages is being fiercely challenged in the United States, New Mexico stands apart as a state that believes in the importance of representing the lived histories and present-day realities of people and groups from diverse backgrounds. As a professor of Chicana/o/x literature, a literary scholar, and a lifelong literary advocate, I firmly believe that storytelling is an essential part of reckoning with our past and present and moving toward healing in our communities," said Acting Higher Education Secretary Patricia Trujillo, Ph.D.    
Banned books week was launched in 1982 by the American Library Association (ALA) in response to a surge in the number of challenges to books in libraries, bookstores, and schools. In 2022, the ALA's Office of Intellectual freedom documented 1,269 demands to censor library books and resources, the highest number of attempted book bans since the organization began compiling censorship data more than 20 years ago.  
According to ALA, the unparalleled number of reported book challenges in 2022 nearly doubles the 729 book challenges reported in 2021. Censors targeted a record 2,571 unique titles in 2022, a 38% increase from the 1,858 unique titles targeted for censorship in 2021. Of those titles, the vast majority were written by or about members of the LGBTQIA+ community or by and about Black people, Indigenous people, and people of color.  
New Mexico authors have also been targeted by book bans. "Bless Me Ultima," by award-winning New Mexico author Rudolfo Anaya is number 75 on the list of most frequently challenged books. The most challenged titles during the 2022-2023 school year in the United States are listed below: 
Gender Queer: A Memoir by Maia Kobabe 
Flamer by Mike Curato 
Tricks by Ellen Hopkins 
The Handmaids Tale: The Graphic Novel by Margaret Atwood 
Crank by Ellen Hopkins 
Sold by Patricia McCormick 
Push by Sapphire  
A Court of Mist and Fury by Sarah J. Maas 
This Book is Gay by Juno Dawson 
The Bluest Eye by Toni Morrison 
Milk and Honey by Rupi Kaur 
A comprehensive list of frequently challenged books by reading level is available here. 
To find a library near you, visit nmstatelibrary.org.  
### 
Governor Michelle Lujan Grisham launched the New Mexico Early Childhood Education and Care Department (ECECD) in 2020, making New Mexico among the first states to consolidate all early childhood programs and services under a single cabinet-level agency. Under this administration, ECECD has led the nation by expanding access to free New Mexico PreK, overseeing the largest investment in early childhood infrastructure in state history, and implementing cost-free child care for a majority of New Mexico families. Learn more about how ECECD supports children, families, and the early childhood professionals that serve our communities at nmececd.org. On Facebook, Twitter, and Instagram as @NewMexicoECECD.
 
The New Mexico Public Education Department partners with educators, communities and families to ensure that all students are healthy, secure in their identity and holistically prepared for college, career and life. Currently, NMPED serves about 320,000 students in 189 districts and charter schools. Find an abundance of resources for administrators, educators, families and students at New Mexico Public Education Department (state.nm.us) or follow the NMPED on Facebook and Instagram.
 
The New Mexico Higher Education Department was established in 2005 and oversees the state's public and tribal colleges, universities and special schools. It also oversees adult education and literacy programs statewide, manages state-funded financial aid programs and capital projects for higher education institutions, provides college readiness services via the GEAR UP program, and grants state authorization to private colleges operating within New Mexico. For more information, visit hed.nm.gov or follow us on Facebook, Twitter and Instagram at @NMHigherEd.