Press Release
FOR IMMEDIATE RELEASE
December 5, 2022
Cotillion

Sneddy

of Navajo Nation appointed as new ECECD Assistant Secretary for Native American Early Education and Care
SANTA FE – The New Mexico Early Childhood Education and Care Department (ECECD) on Monday announced that Gov. Michelle Lujan Grisham has appointed Cotillion Sneddy as Assistant Secretary for Native American Early Education and Care. 
Sneddy was raised in Crownpoint, New Mexico in the eastern region of the Navajo Nation and comes from the Water-Flows Together people and born for the Start-of-the-Red-Streak people. She brings twenty-four years of experience in early childhood to the position, ranging from roles as a teacher assistant and home visitor in Head Start, a supervisor of student/teacher programs at the University of New Mexico, director of early childhood programs and operations in Tlicho, in the Canadian Northwest Territories, Early Literacy coordinator/coach, and most recently, teaching early childhood classes for Northland Pioneer College. She has also served on the Navajo Nation First Things First Regional Council. 
"We are thrilled to welcome Cotillion Sneddy to the ECECD leadership team," said ECECD Secretary Elizabeth Groginsky. "Her extensive and varied education and experience in Native American early education is a huge asset to ECECD as we seek to advance the goals and priorities of New Mexico's 23 Tribes, Pueblos, and Nations and build culturally and linguistically responsive early education and care opportunities for Native American families and young children." 
"I feel fortunate to be able to serve in such a forward-thinking administration that has been so successful in establishing the Department of Early Childhood and Care Department and prompting a systemic change in supporting our early childhood professionals, children, and their families in New Mexico," said Assistant Secretary Sneddy. "Additionally, this position partners with the tribes in the state to provide guidance to the department. I am ecstatic to be working with Secretary Groginsky and the department staff." 
"Early childhood education is a subject close to our hearts and a top priority for all tribal nations in the State of New Mexico and there is no one better qualified to serve in the role of Assistant Secretary of Early Childhood Education and Care that Ms. Cotillion Sneddy," said Navajo Nation President, Jonathan Nez. "We have many challenges throughout the state, but we are confident that Ms. Sneddy's 24 years of vast experience and education will serve all communities and children with great compassion, knowledge and commitment. We congratulate Ms. Sneddy and we also thank Governor Lujan Grisham and Secretary Groginsky for supporting her in this new role." 
Sneddy emphasizes the importance of both academic and traditional knowledge within Native American early education and care, placing both spheres of knowledge on equal terms. She holds a bachelor's degree in Early Childhood Multicultural Education and a master's degree in Elementary Education with TESOL endorsements and is currently a PhD candidate at the University of New Mexico in the Language, Literacy, and Socio-cultural Studies program. Her focus is on culturally relevant pedagogy, material, and texts in early childhood environments. Sneddy is also enrolled in the Public Health Training Certificate program for American Indian Health Professionals at John Hopkins University. 
The position of Assistant Secretary of Native American Early Education and Care, recently vacated by Jovanna Archuleta of Nambé Pueblo who served for the agency's first two years, is mandated by the legislation establishing ECECD as a cabinet-level government agency with the goal of ensuring that early education and care in Native American communities is represented at the very top of the leadership structure. ECECD is the first and only state early childhood education department to create this type of position.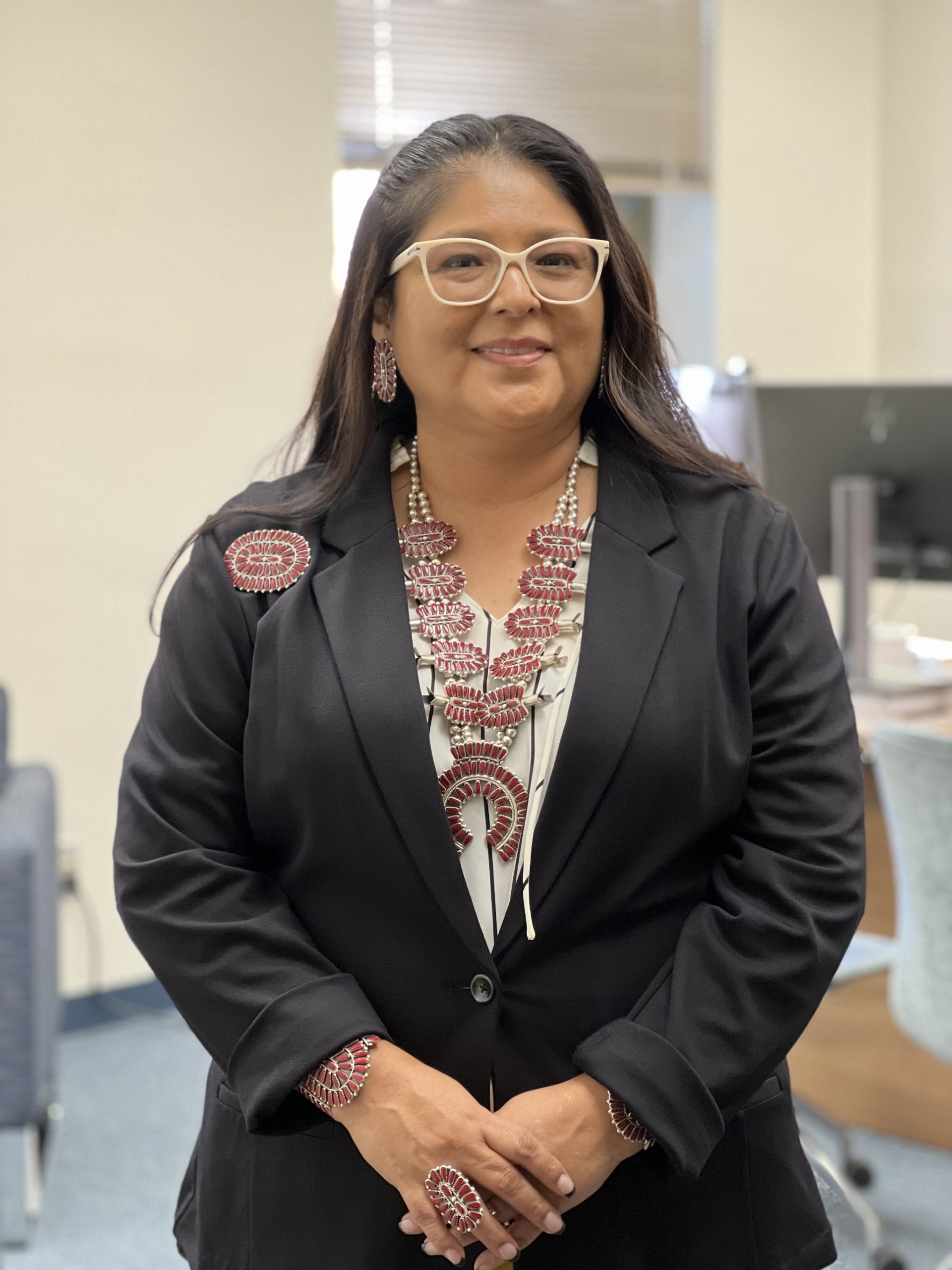 New ECECD Assistant Secretary Cotillion Sneddy pictured in her new office.
###
Governor Michelle Lujan Grisham launched the New Mexico Early Childhood Education and Care Department (ECECD) in 2020, making New Mexico among the first states to consolidate all early childhood programs and services under a single cabinet-level agency. Under this administration, ECECD has led the nation by expanding access to free New Mexico PreK, overseeing the largest investment in early childhood infrastructure in state history, and implementing cost-free child care for a majority of New Mexico families. Learn more about how ECECD supports children, families, and the early childhood professionals that serve our communities at nmececd.org. On Facebook, Twitter, and Instagram as @NewMexicoECECD