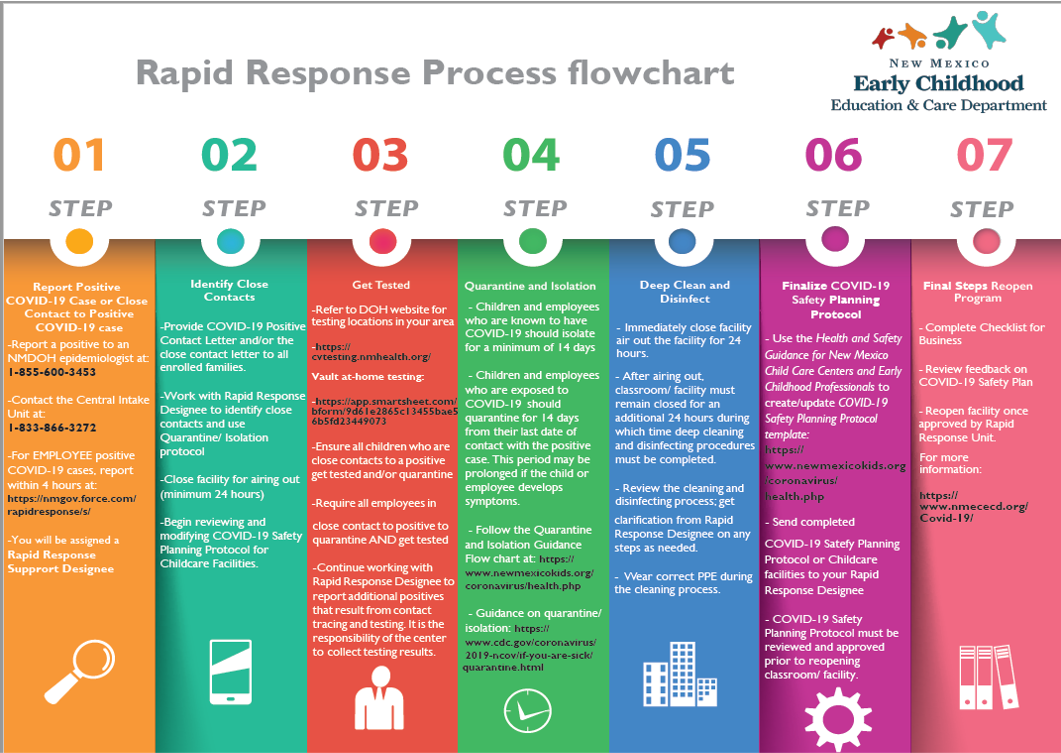 Rapid Response Process for Child Care Programs
ECECD, in collaboration with the University of New Mexico, Early Childhood Services Center is launching a Rapid Response Centralized Intake Hotline. The toll-free Rapid Response Central Intake Number is: 1-833-866-3272.  
Beginning Monday, Feb. 15, 2021 child care programs with a positive COVID case (or close contact) should call the Centralized Intake line. ECECD Child Care Licensing and UNM Early Childhood Services Center have teamed up to streamline reporting and provide additional support. The Centralized Intake staff will continue to provide child care programs needed support and guidance to ensure that children and staff remain safe and that businesses can re-open classrooms and programs with as little disruption as possible. The ECECD regulatory team will continue to take your calls, however, we encourage child care programs to start calling the Rapid Response Central Intake at 1-833-866-3272 when you have a positive COVID case (or close contact).   
As part of this support, programs can also request a referral to our ECECD Families FIRST team who will offer resources to help with insurance, food, and other assistance as needed. The ECECD Families FIRST nurses can provide education, resources, and friendly advice on health, nutrition, and nurturing.