May 7-13, 2023 is Teacher Appreciation Week! The New Mexico Early Childhood Education and Care Department (ECECD) is celebrating Early Childhood Educators across the State.
On May 10, 2023 ECECD Cabinet Secretary Groginsky was honored to visit the Little Explorers Child Development Center in Santa Fe, NM. See the video here.
ECECD asked early childhood programs to submit photos and narratives of their educators to highlight on ECECD's social media platforms. We received an overwhelming amount of educator submissions, so we've created a special webpage dedicated to these individuals!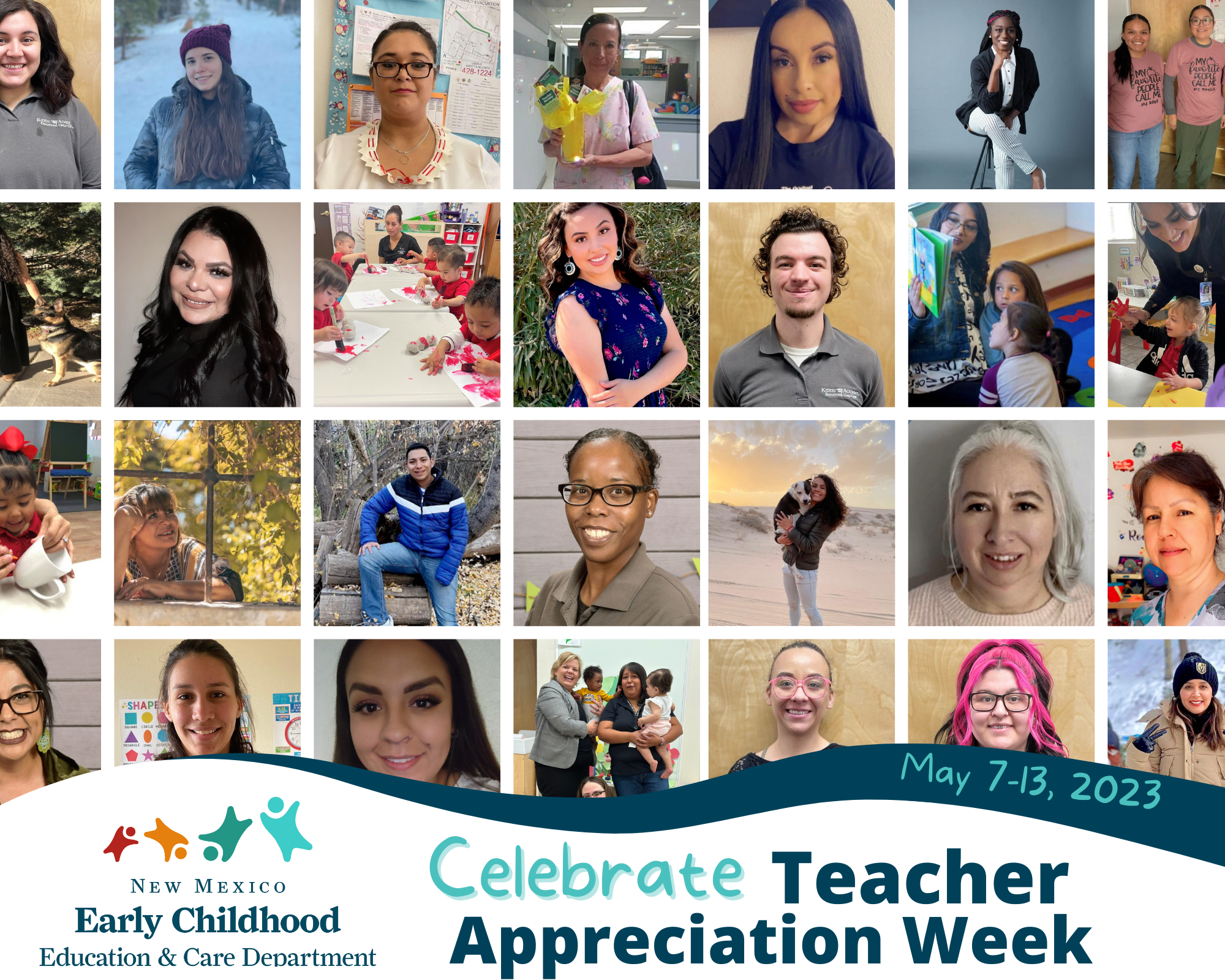 We are thrilled to highlight these educators below:
Click the arrows to see the next photo. 
Flor Gandara is an educator in the Roadrunner class (preschool) but has previously worked with all age groups. I recently received my associate's degree in Early Childhood Multicultural Education from Central New Mexico Community College in May of 2023, and I have been accepted at Western New Mexico University to further my education. It is a pleasure working with local and international families and helping guide their young children.
Ms. Patricia – Lead Teacher Infant Room
Ms. Patricia is an amazing infant room teacher and is patient, compassionate, and attentive to the needs of each individual child she has enrolled in her classroom. She understands that infants require a lot of care and attention, and she is always ready to provide comfort and support to her little ones. She creates a nurturing environment that is safe and welcoming for her infants to explore and learn. She is skilled at observing and understanding infants' behavior, and she uses this knowledge to guide her interactions and activities. Ms. Patricia is someone who truly loves her job and is dedicated to the well-being and development of the children in her care.
Ms. Melissa – Assistant Teacher/Floater
Ms. Melissa is an exceptional assistant teacher who is warm, compassionate, and caring toward all children in her care. She creates a nurturing environment where children feel safe and comfortable, and they thrive under her guidance. Melissa is always patient, kind, and understanding, and she takes the time to get to know each child's unique needs and interests. She is skilled at building strong relationships with children, parents, and her colleagues, and she is a valuable member of any educational team. Her dedication to the well-being and growth of children is truly inspiring, and she is a wonderful role model for those around her.
Darlene Sanchez
Darlene lives in Magdalena, NM. I have received my CDA and attended classes at the University of New Mexico – Valencia Campus. I am a member of the New Mexico Association for the Education of Young Children. I have been working with children for the past thirty years. For twelve years, I was a home care provider. I love working, educating, and caring for children, whether it is playing, nurturing, strengthening, motivating, or developing their skills and building their self-confidence.
Submitted by Laurie Ware, NMT Children's Center Director