FOCUS Planning Time Grant

Financial support for early childhood programs and professionals on a path to quality improvement
THE FOCUS PLANNING TIME GRANT is offered by the New Mexico Early Childhood Education and Care Department (ECECD) to support classroom preparation and program development.
THE FOCUS ON YOUNG CHILDREN'S LEARNING PROGRAM AND VERIFICATION PROCESS make up a quality rating and improvement system that works to strengthen early childhood programs in New Mexico.
Find out more about the FOCUS Verification process.
One of the FOCUS requirements is that educators must have at least two hours of weekly planning time to review child assessment information and for curriculum planning.
ECECD recognizes that planning time is essential to ensure program quality. However, removing staff from the classroom or care environment to meet this criterion means that other qualified professionals must temporarily take their place to oversee direct child care and education services. This is why ECECD offers FOCUS Planning Time Grants, an initiative managed by the Southwest Regional Education Cooperative (SWREC).
What the Grant Covers
 Up to two "floaters" to relieve the educator and education assistant in each classroom for a block of two hours per week. Floaters must meet all New Mexico child care regulations.
A $15 hourly rate per floater to cover wages, taxes, benefits, and other associated costs incurred by the program for grant administration and reimbursement.
Eligibility
A current FOCUS program that has achieved 3 Star status or higher is eligible to submit an application to receive a FOCUS Planning Time Grant.
In order to continue eligibility, programs must maintain their FOCUS 3 Star (or higher) status. The SWREC must be notified by the tenth of the month if a program has lost its eligibility. Failure to notify leaves the program responsible for payment of any grant reimbursements during the ineligible period.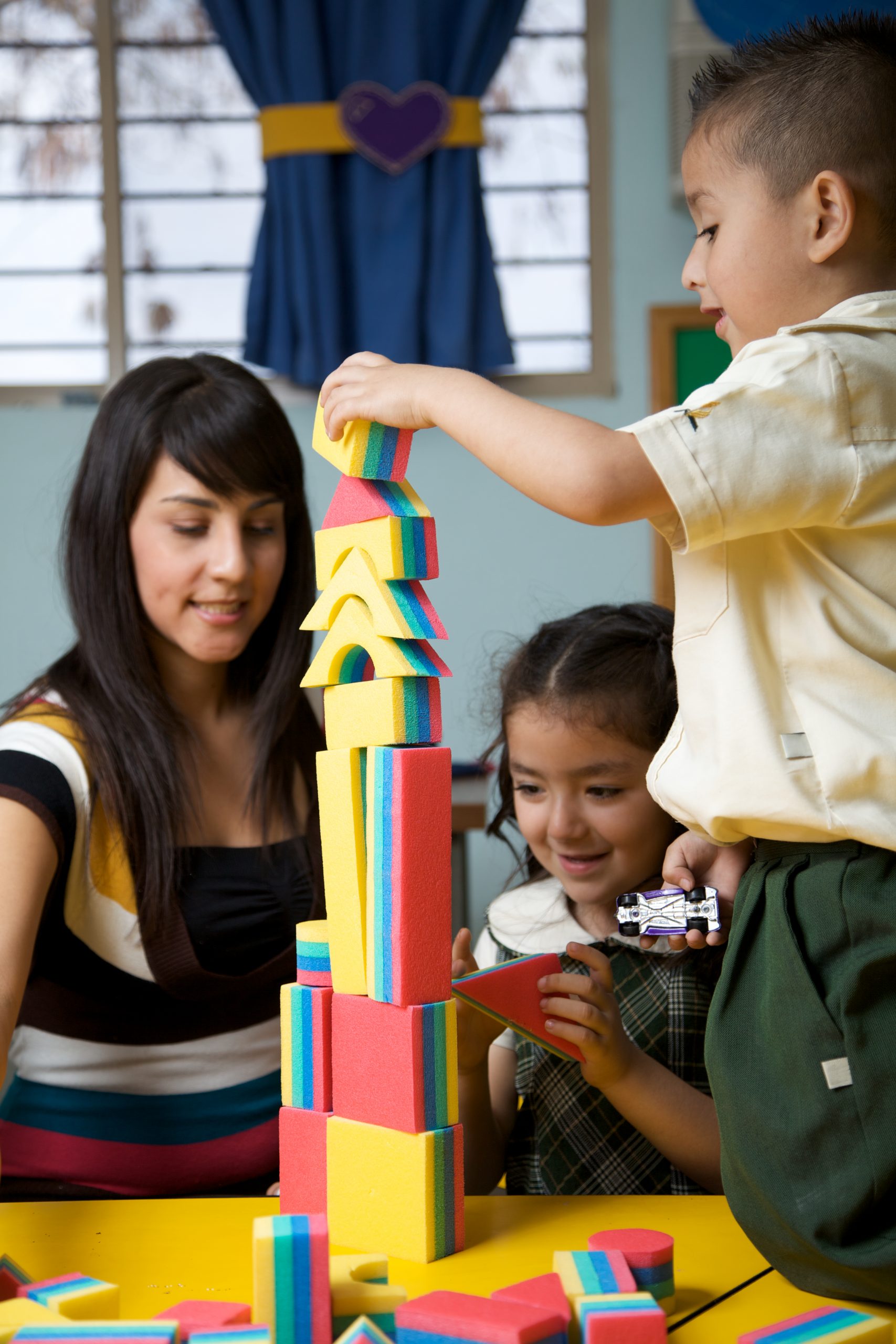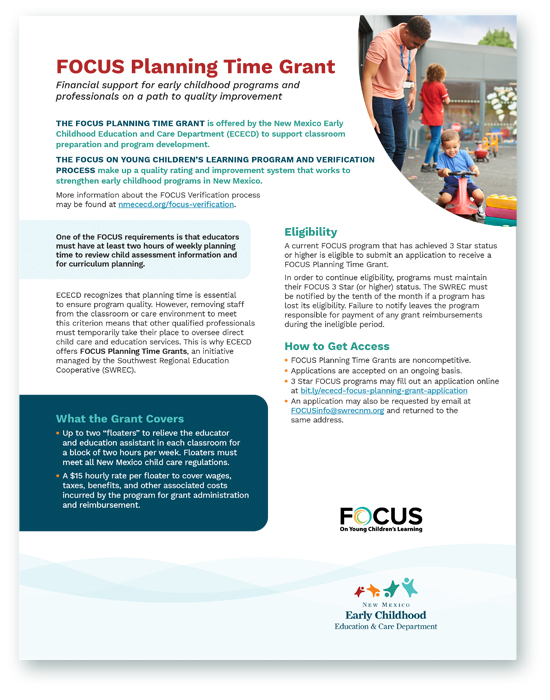 Download flyer (linked upon approval)
businessHow to Get Access
FOCUS Planning Time Grants are noncompetitive.
Applications are accepted on an ongoing basis.
3 Star FOCUS programs may fill out an application online.
An application may also be requested by email at FOCUSinfo@swrecnm.org and returned to the same address.
Award and Payment Process
Grants:
Applications are reviewed and verified by SWREC within two business days of receipt.
SWREC then issues the program an award letter, which also serves as a grant agreement.
To receive funding, programs must fill out a W-9 form and email it to FOCUSinfo@swrecnm.org.
Funding is for 12 months, and applications must be resubmitted each year.
Invoicing and Payment:
Programs will be reimbursed monthly.
A FOCUS Planning Time Invoice may be emailed to FOCUSinfo@swrecnm.org using the template sent with the grant agreement, or the online form may be submitted  by close of business on the tenth of each month to be reimbursed for the previous month.

If the tenth of the month falls on a weekend, invoices are due by close of business the Friday prior to the weekend.
Invoices submitted after the tenth will be reimbursed the following month.
Invoices are reviewed and approved within five business days of receipt.
Payment is issued by SWREC via check within 30 business days.
Audits:
Periodic on-site and paper/desk audits will be conducted, requiring programs to provide documentation of:
Employment and payment records

Work schedules and logs